How do alerts work for Outlook / Gmail signatures?
Because most Outlook/Gmail signature responses are anonymous, the alerts work slightly differently.
This also relates to Basic HTML and Basic Links Thermometers where the email address is not being captured by a variable.
Email alerts will only be triggered if the recipient of the survey either enters their email address on the landing page or clicks 'No thanks' to indicate they don't wish to identify themselves. This means that if a recipient simply closes the landing page without actioning either of those things, you will not receive an email alert. You will also, of course, need to have the email capture tool enabled for the above to apply otherwise no alerts will be triggered at all.
The reason it works in this way is that the email alerts are primarily designed to help with following up with the customer. So because Outlook and Gmail Thermometer responses are initially anonymous, the email alert is essentially 'held back' until the recipient has had an opportunity to add their email address or confirm they don't want to. If they don't do either, then the alert will not be triggered.
If you would prefer to receive instant email alerts for all responses, even if they're anonymous, please enable the following setting on the 'Data Collection' page of your Thermometer settings 'Send instant email alerts for all responses':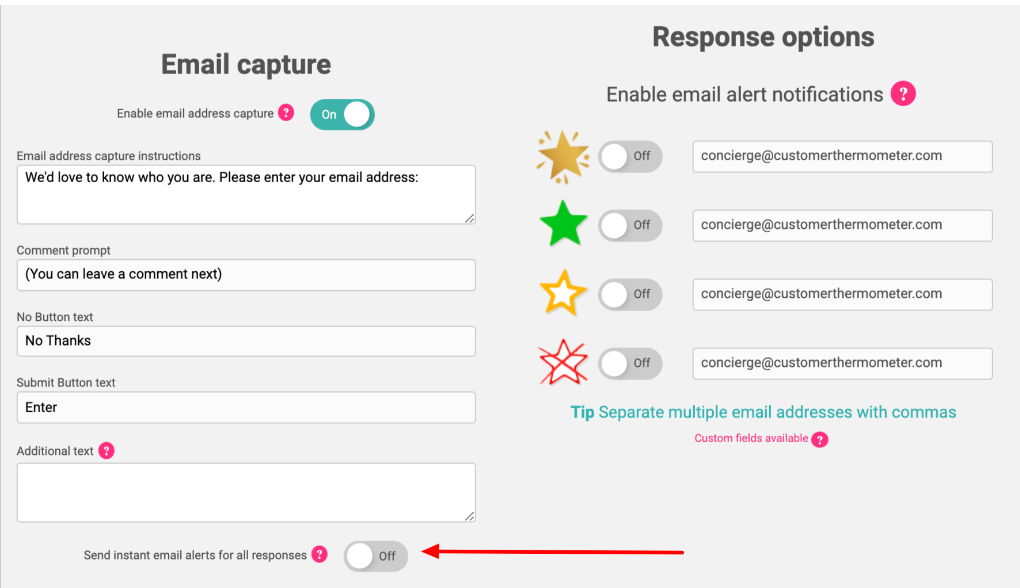 Please note that if a recipient clicks on an icon you will instantly receive one anonymous email alert. If the recipient then decides to leave an email address to identify themselves you will receive another email alert with that recipient's email address triggered by the email capture tool.
The comment alerts for Gmail and Outlook Thermometers remain the same as the standard set-up mentioned above.