Hot on the heels of our new Drivers feature, today we're bringing you some ideas and advice on how to use Drivers in four classic feedback scenarios.
These will help you create your own Drivers relevant to your business, so you can start digging into the true Drivers of satisfaction, and dissatisfaction, in your business.
An ongoing issue for many Service Desks, for example, is that customers will rate the product they have received, or are returning, rather than the service from the agent – which is often what many Service Desk heads are most interested in. Drivers allow you to offer "Product quality" as a Driver, so you can separate out these responses from the overall Service Desk feedback.
So, without further ado, on to the four scenarios. These are; to get more insight into what's driving Product satisfaction, Service Desk satisfaction, Employee engagement and Brand experience.


1. Product-focused Drivers
Why did you select that particular option today?
Sound quality
Ease of use
Design style
Colour range
Portability
Ability to link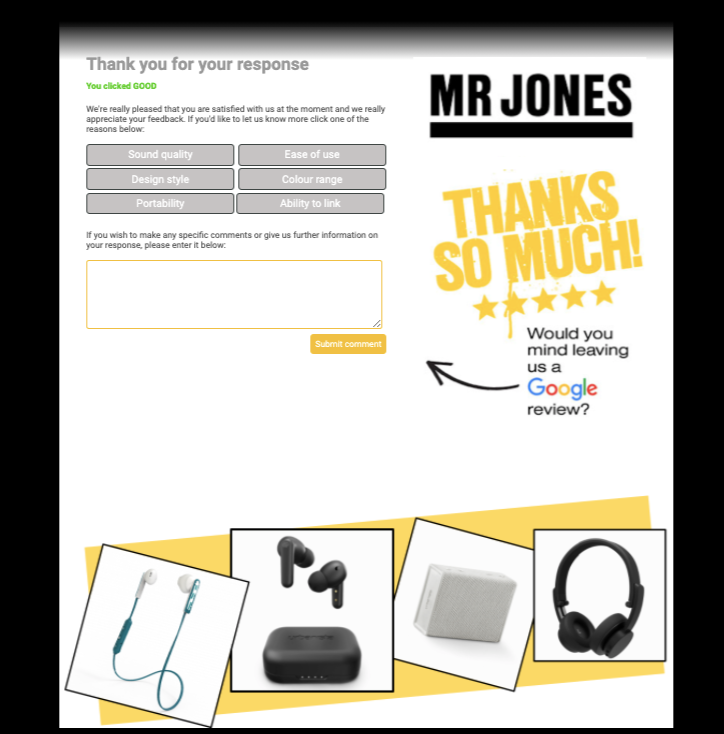 2. Service-desk focused Drivers
Which aspect of our service drove your choice?
Product quality
Attention to detail
Agent helpfulness
Agent attitude
Product functionality
Speed of assistance
3. Employee engagement Drivers
Why are you feeling that way at the moment?
Management style
Communication frequency
Communication clarity
Work/life balance
Workload
Atmosphere
Opportunity to progress
Training
4) Brand Experience focused Drivers
What about our brand motivated your feedback today?
Proactivity
Tailored offers
Company ethics
Range of products
Word of mouth
Customer service
Ease of use
Top tips
1. Remember you can have different Drivers for different CSAT types. So the Drivers you offer for red/unhappy responders can be different from those you offer green/happy responders. If you want to use the same Drivers across all possible response types, remember to keep them neutral. So instead of saying "poor quality" or "good quality", say simply "quality".
2. You are able to add in the text above the Drivers area – so basically the Drivers question – freehand. It's worth keeping this punchy and also making clear you're asking them why. So we'd suggest a question such as "Why do you feel like that?" or "Why did you choose that rating?" or "What aspect of our service most drove your feedback today?
3. Start simple so you can actively use the Drivers information you have to make changes on the ground for customers. Once you understand more about the basic Drivers, you can add more sophistication
4. If you are still struggling for somewhere to start, and you've been using Customer Thermometer for a while, take a look at your comment word cloud in your "Reporting" section, under the "Comments" tab. You might see some often-repeated words and concepts in that section that you can turn into options for your Drivers.