Overview
"Lockout" is the length of time that a recipient is blocked from responding to the same Thermometer multiple times.
By default, an Embedded Thermometer can be clicked multiple times by the recipient. This ensures that the Thermometer can be used on multiple support tickets, and/or be sent to the recipient multiple times if appropriate.
However, there may be instances where you want to prevent multiple clicks for example you may only be wanting to receive one response per helpdesk ticket or you may simply want to temporarily prevent people from submitting lots of 'emotional' responses, which could skew results.
To give you flexibility, we offer the option of setting a 'lockout period'. It prevents unwanted additional responses from the same individual, for a specified length of time.
Anyone attempting to submit another response during the lockout period set will see a page informing them that the survey is now closed.

How lockout works
Lockout uses the contents of the Email Address field to determine whether the person has already submitted a response.
In addition to this, the following Thermometer types also use the 'Custom 1' field automatically, in combination with the Email Address field:
Zendesk
Desk.com
Kayako
Kaseya BMS
Vorex
Pulseway
Freshdesk
ServiceNow
The 'Custom 1' field in these Thermometers is set to contain the Ticket, or Case ID – which means that the same recipient can click another survey if it's been generated from a different helpdesk ticket.
It is available for each Thermometer: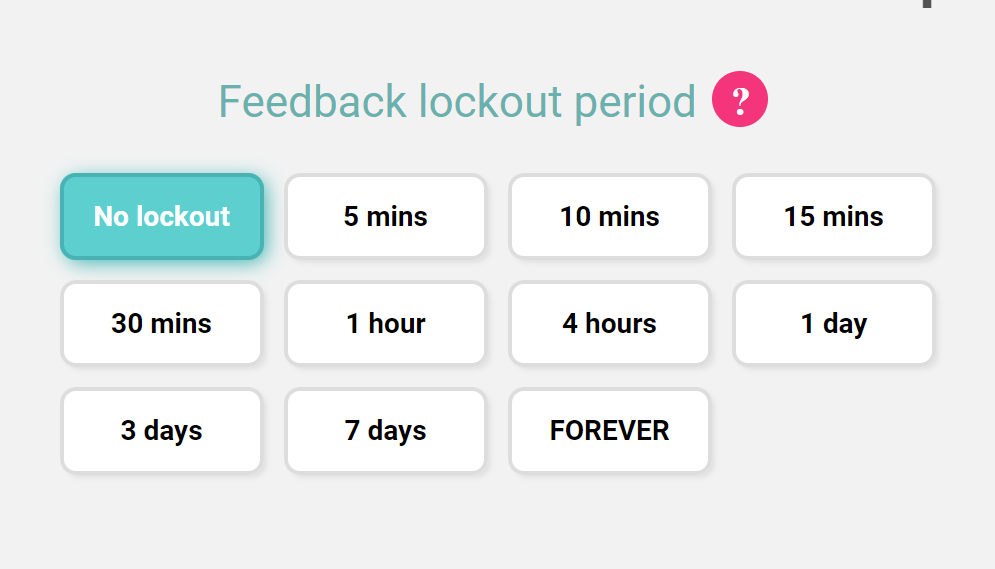 If you are not using any of the integrations above but still want to set your lockout combination to email and another custom field you certainly can.
In your Thermometer settings simply ticket the box underneath the lockout feature and use the drop-down to select your criteria:
If a lockout period is enabled on a Thermometer receiving anonymous results (Outlook / Gmail Thermometer), you will find that all further responses are blocked for the duration of the lockout period. This is because the contents of the email field will all 'look' the same, leading the lockout system to believe they are all the same person.