Warning: This user guide is for our legacy user interface.
Create your Pulseway PSA Embedded Thermometer
Create a new Embedded Thermometer.
Choose "Pulseway" from the Embedded Thermometer type drop down box:
Generate your embed code
Click the Generate embed code button. You will see a window popup.
To capture identifiable data about the recipient and sender etc we use Pulseway's variables within the survey code. Enter your Pulseway variables as shown below. These variables will provide identifiable feedback and dictate which data is captured alongside Customer Thermometer rating. You can add more variables if you wish, click 'Add more fields'.
To find others, double click the field on the right sidebar within your Pulseway PSA template editor and copy the syntax shown.
Click Generate HTML.
Copy the HTML generated to your clipboard, ready for pasting into your Pulseway PSA account.


Set up your Pulseway PSA account.
Firstly, define your Internal Survey Scores.
This will allow you to create averages & scores for agents & ratings within your Pulseway PSA reporting.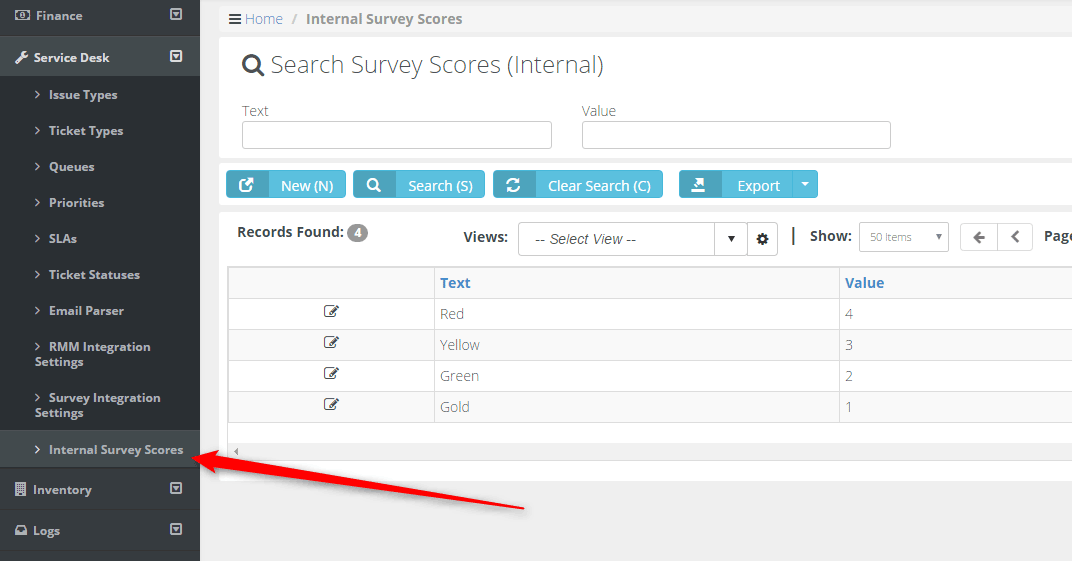 Next, create your first survey. This will enable a shortcode to be inserted within email templates.
From your toolbar, within "Settings" > "Service Desk", select "Survey Integration Settings"
Create a survey name and choose Customer Thermometer as the survey type:
Next, select the "Survey Score Mappings" tab and map your External Scores to Internal scores as shown: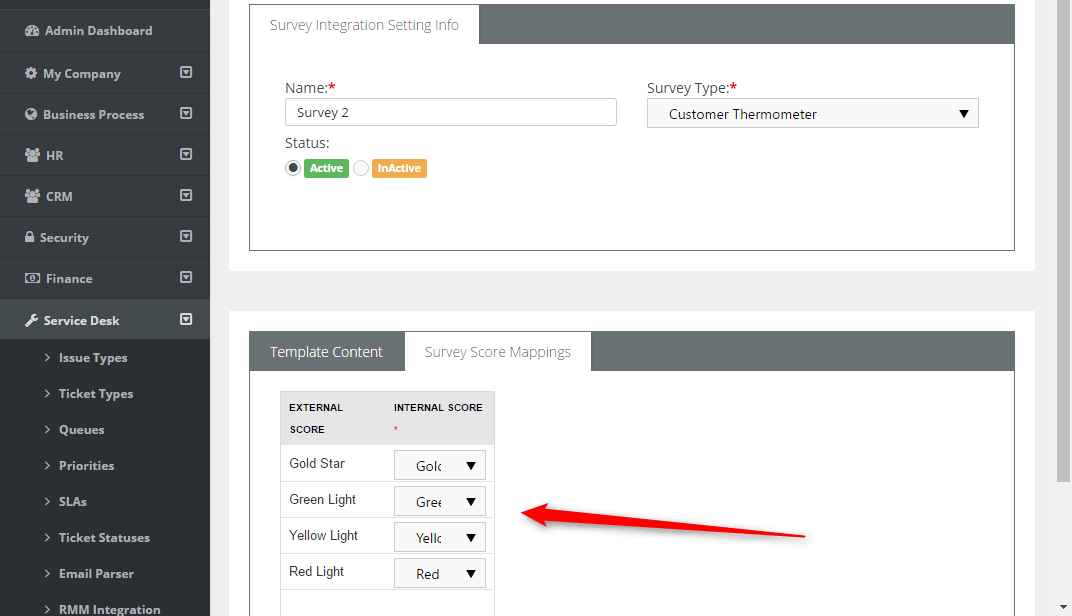 Click SAVE when you're finished and your survey will now be stored and available across your account.
You are free to add additional, uniquely named, surveys.

Add feedback buttons to email notification templates
Once your survey(s) are stored, you can add them to an email template.
Customize your Ticket Closure notification and/or your Ticket Updated notification:
Position your cursor at the relevant point and insert a survey from the dropdown menu:
This will add feedback buttons to each notification and allow you to track 1-click feedback, identifiable to that customer, agent and ticket ID.

The end result
Depending on how you've configured your Pulseway PSA account when a note is updated / ticket is solved, feedback buttons will track the recipient, ticket and agent details inside your Customer Thermometer account.
Your outbound email will look something like this:
When a customer clicks a rating – it is stored within your Customer Thermometer account.
In addition, the ratings and comments are then added directly against the Pulseway PSA ticket.