Create your ManageEngine Embedded Thermometer
Create a new Embedded Thermometer.
Choose "ManageEngine" from the Embedded Thermometer type drop down box.
Our Embedded Thermometer set-up guide will take you through the settings available.
Generate your feedback buttons
Once you are happy with your Thermometer and Landing Pages, click the 'Generate embed code' button:
A pop-up will open, where you will have the opportunity to check/amend the data that will be captured alongside each response.
The data is pulled through from ManageEngine, using ManageEngine placeholders. These are incorporated into the response links, so that the data will be merged in from ManageEngine at the point that the email containing the survey is sent.
We pre-populate some of the most popular placeholders, but you can amend these and/or add more if you wish. There are 10 custom fields available for use.
Once you have checked/amended the data you wish to capture, click "Generate Template".
You can then simply highlight and copy the survey that is generated, and paste it into your chosen ManageEngine email template:
Where can you add the survey within ManageEngine?
Once you've generated your survey, it's simple to add it to an email template.
Inside ManageEngine, visit Admin > Account Details > Notification rules. There are various options for where to add the survey buttons:
E-mail user when a request is resolved.
Acknowledge requester by e-mail when the request is closed.
Acknowledge requester by e-mail when the request is updated.
You could also customize a Resolution Template within Admin > Helpdesk > Resolution Template.
You could also customize the survey template within Admin > User Survey > Survey Settings.
Adding the Thermometer to the ManageEngine Template
ManageEngine email templates don't support HTML source code, so this is why we generate the survey in a simple copy/paste format with the links already embedded behind the icons.
Once you have copied the feedback buttons from within your Customer Thermometer account, simply edit your chosen ManageEngine email template and paste in the Thermometer.
To complete the survey set-up, you can add descriptions below each icon if you wish, and even a short message below to reassure the recipient it's just a single click: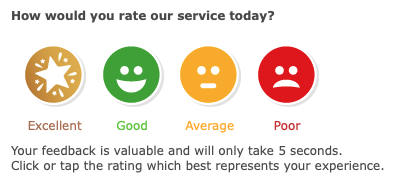 The final result
Depending on the configuration/template that you've chosen, when a requested is updated / or resolved, your outbound email will contain the feedback buttons directly within the email itself: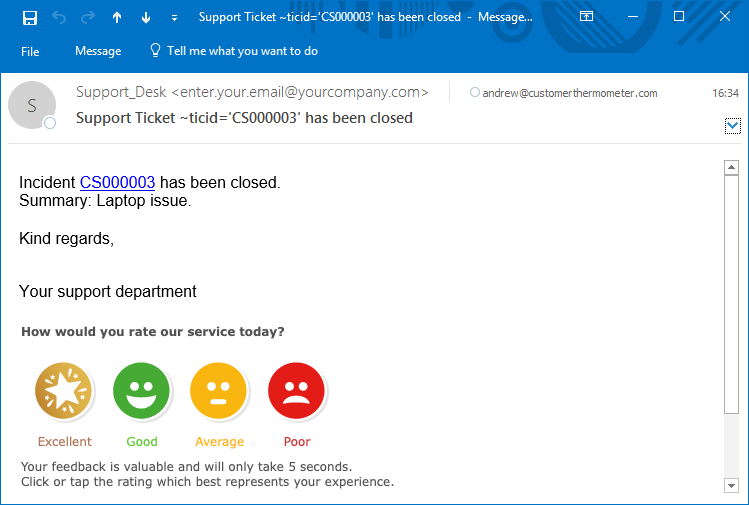 When a customer clicks a rating, the response is instantly captured within your Customer Thermometer reporting area, alongside the recipient details, request ID and technician details – you can then use the Customer Thermometer reporting suite to generate a variety of reports drawing on this data.


Final steps
Once you've embedded your Thermometer into ManageEngine, you'll need to finalize your landing pages. You can enable a comment field, add your logo, customize the wording, and lots more!
Simply go to 'Manage Thermometers', and click to edit your Thermometer. Our guide to Creating landing pages will take you through the options…and if you'd like some inspiration, take a look at our top tips for beautiful landing pages.